The best design shower enclosures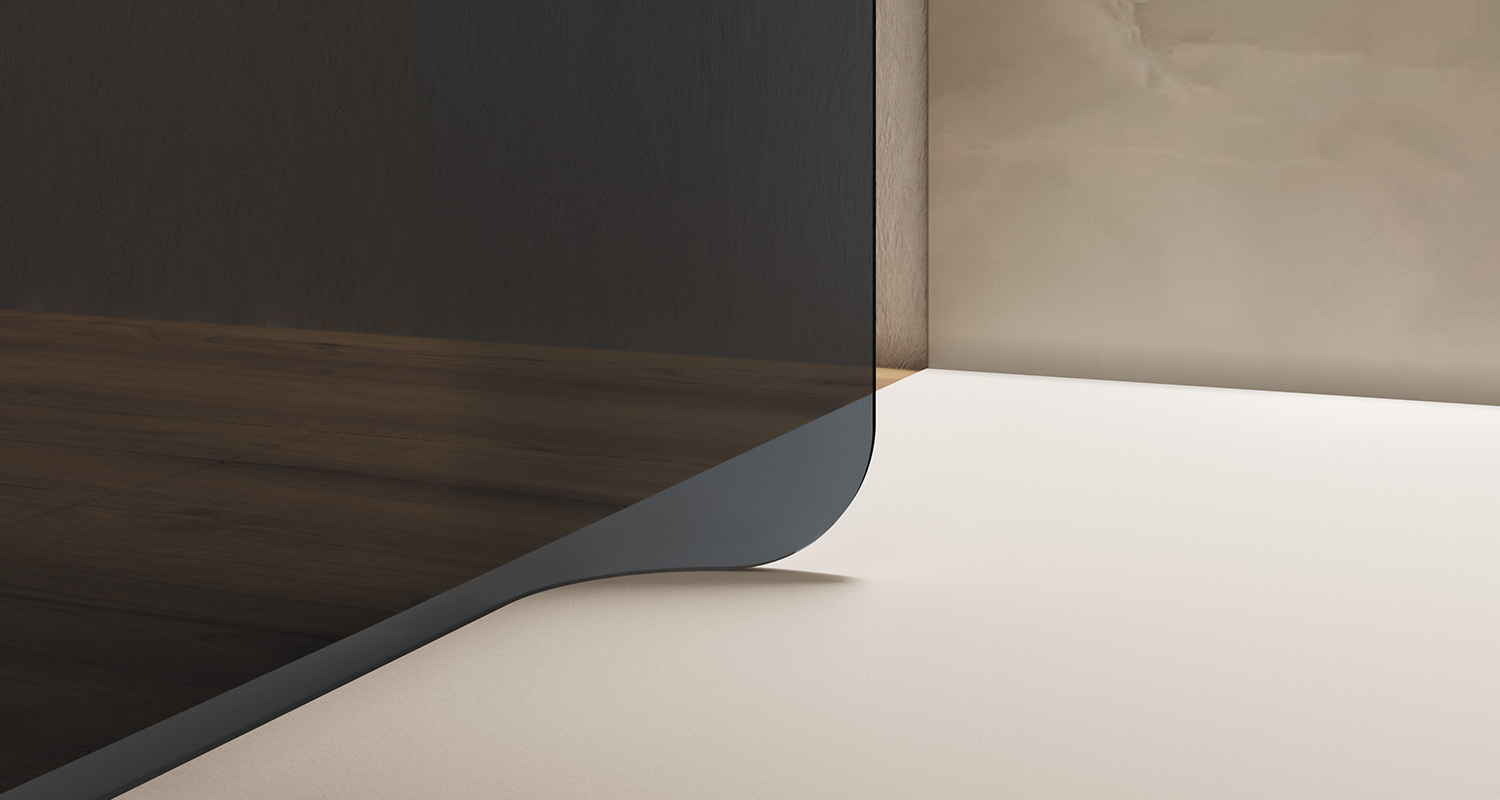 A design shower enclosure must be able to integrate into the bathroom, in different situations, each with a different style. Here are some of them:
Shower enclosure with a modern design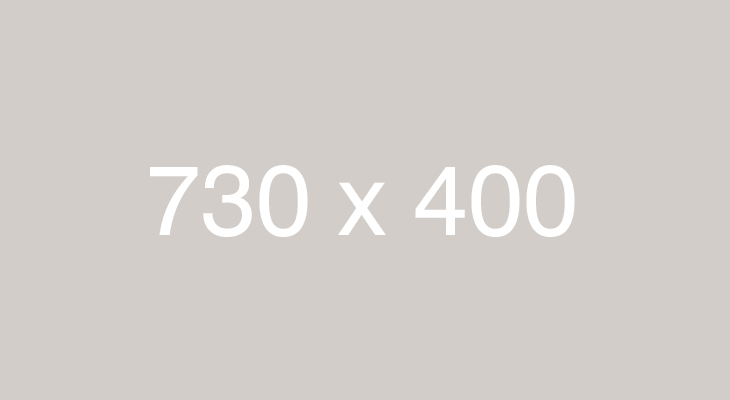 A modern style bathroom is a bathroom that has functionality between the two best qualities. A modern bathroom environment is in line with current trends, but always functional and practical.
What does "modern bathroom" mean?
The modern bathroom is defined by modern rigor and geometries, with color tones ranging from classic white to dark, very often with opaque finishes. A modern bathroom knows how to welcome with refinement and elegance without ever getting you tired. Let's see some shower enclosures for a modern bathroom.
Bobox is the design shower enclosure. Characterized by the rounded corners of the glass (which helps to contain the water), it stood out for its numerous nominations for prestigious awards. It is also a modular shower enclosure because with the simple addition of a door it becomes a closed shower enclosure.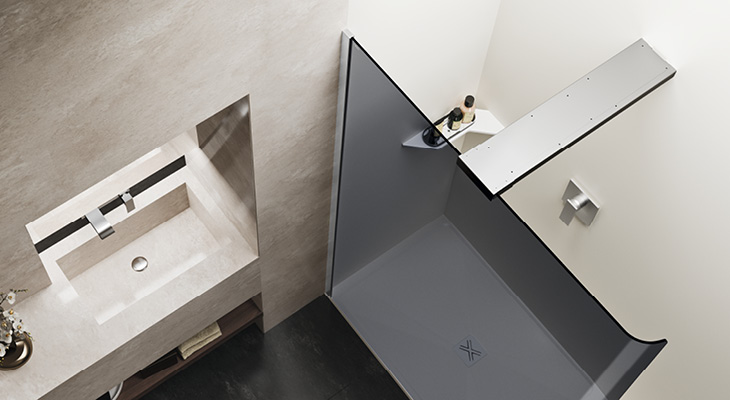 Elegant and functional, Luxor allows you to take advantage of the maximum space available to take a shower. Its particular curvature, in fact, amplifies the available space. This greatly optimizes the spaces inside the bathroom. To do this, it is important to have a shower tray capable of following the sweet shapes of Luxor, an elegant, hygienic, soft to the touch and restorable shower tray over time, for this reason Relax has designed one specifically.
It is also available in the walk-in version without the door.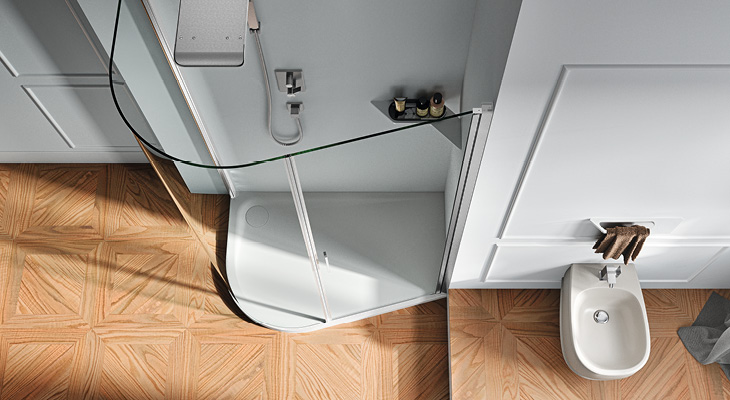 Minimalist design shower enclosure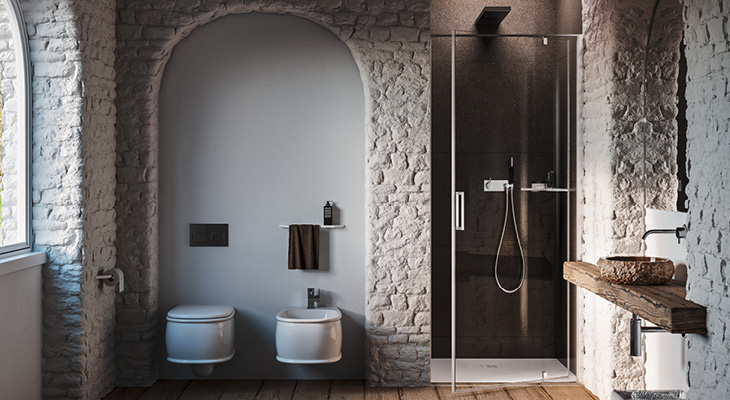 The minimalist (or minimal) style is characterized by the scarcity of elements that compose it. With the latter renouncing frills and decorations, the main focus is placed on the quality and arrangement of the few elements that fill the room. A minimalist design shower enclosure incorporates the same concepts and applies them to the elements that make up the shower enclosure. Discover some minimal shower enclosures with us:
<h3><a href="https://relaxsrl.com/en/products/collections/kubik/">Kubik</a></h3>
Kubik is a minimal shower enclosure. Functional, practical and reduced in terms of decorations. Thanks to a support arm integrated directly into the profile, it is stable and minimal. It has a pivot door, 18 cm away from the wall, which makes the latter usable. Kubik is available with both 6 mm and 8 mm glass and anti-limescale treatment.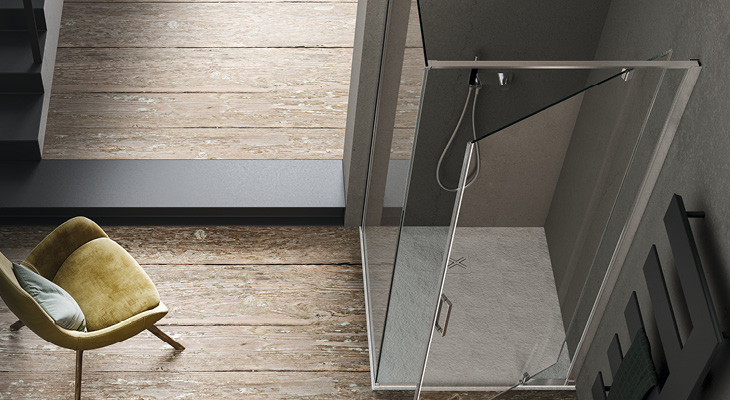 Cover-M is the perfect synthesis of form and function.
The Cover-M shower enclosure is the enhancement of the beauty of glass: characterized by only two hinges for fixing to the wall and no profile, it makes the shower experience something new, never tried before. Thanks to their design features, the shower enclosures of the Cover-M series have some technical precautions that improve their functionality, including: a door lifting system (prevents the gasket underneath from wearing out), fixing flush with the glass and customization of the hinges.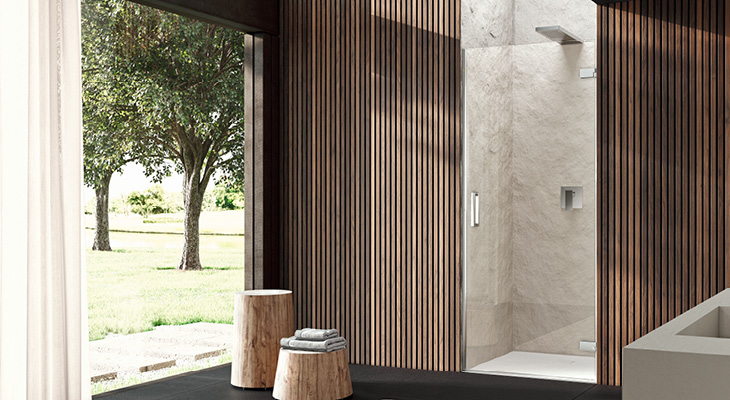 Shower enclosure with industrial design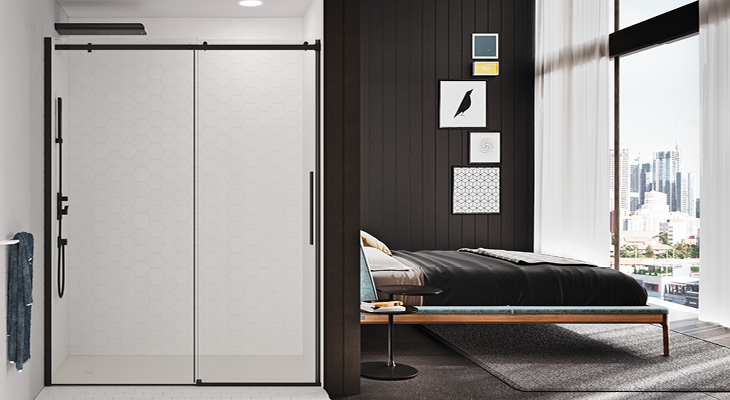 The industrial style refers to the architectural values of the late 19th century: exposed brick facades, black elements, clearly visible structural parts. An industrial design shower enclosure must also be able to interpret a similar furnishing situation, which is why we have selected two products capable of blending perfectly even in a late 19th century industrial loft.
The industrial style aims at the recovery of objects and materials of common or productive use, revisited in a modern key. Frame aims to be an aid to walk-in glass walls, helping them to stand out in an industrial style bathroom. Frame therefore aims to be beauty and simplicity. With a 1 cm thick aluminum profile, which is simply inserted by pressure, without the aid of glues or solvents, it also manages to be green. Can be combined with the walk-in walls of the Wall series.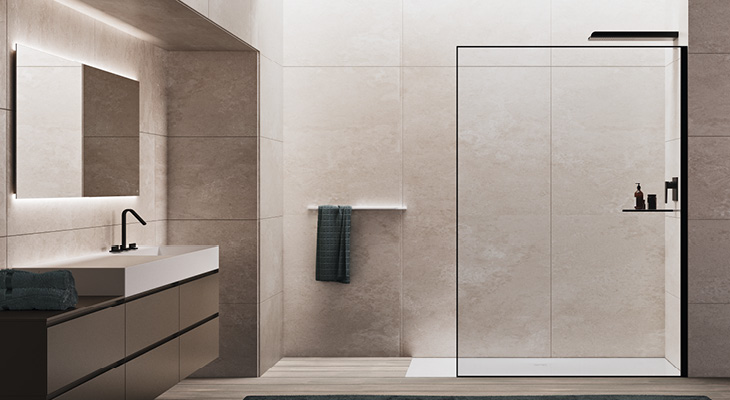 Axia is a shower enclosure with a marked urban design, a perfect mix between aesthetics and attention to construction aspects. Its main advantage is to be able to fit into those bathrooms with an industrial mood that are coming back in fashion. With its visible sliding system, not only will it fit perfectly into the context, but it will be the undisputed protagonist. Moreover, thanks to a release in the lower profile, it is easy to access for quick and easy cleaning.
Traditional design shower enclosure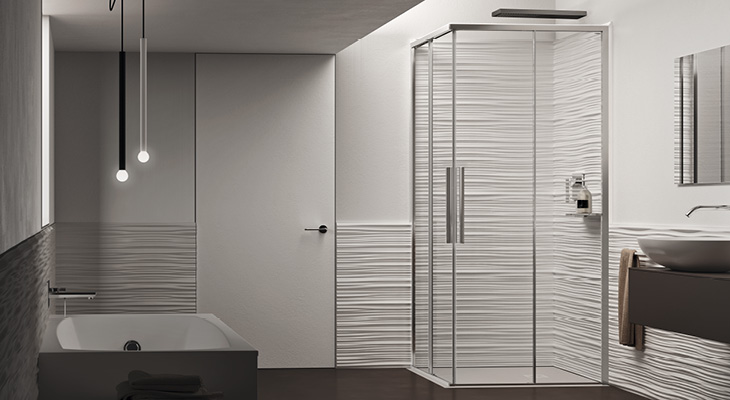 The traditionally designed shower enclosure is simple and pure in detail. Considered an "evergreen", it will never go out of style. One of the peculiarities that distinguish it from the others is that it can be inserted in any context, without ever disfiguring it. Let's discover some shower enclosures with a traditional design:
Puro is in line with those traditional shower enclosures that very often solve situations of style within the bathroom. It is in fact one of those shower enclosures that are best suited to the various styles present in a home, thanks to its delicate and timeless shapes. Puro is also customizable, thanks to the upper parts of profiles and handles in the same color as the bathroom. With a slim frame that perfectly shapes the beauty of the glass, an internal cover that hides the sliding system and a minimal bottom watertight profile, you just have to enjoy a refreshing shower!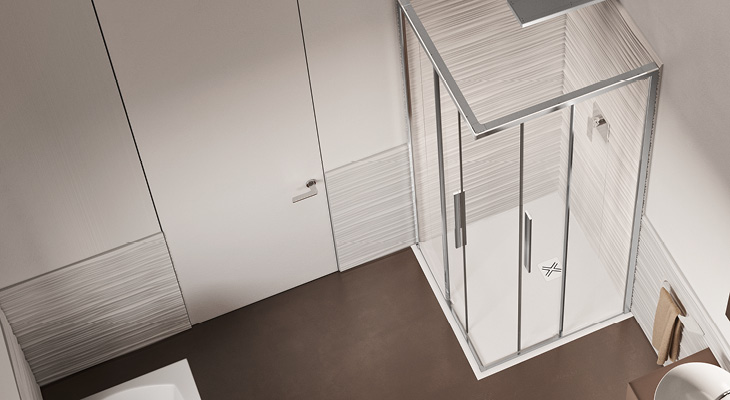 Traditional design and important stability, Unico is a shower enclosure with refined finishes and materials, which meets all the needs of a quality shower enclosure. All the convenience of a traditional shower enclosure, in a product with all the technological features of a modern shower enclosure. Unico is characterized by the practicality of a higher and more containing lower profile than its Puro brother, this implies greater water tightness and stylistic symmetry between the upper and lower profile.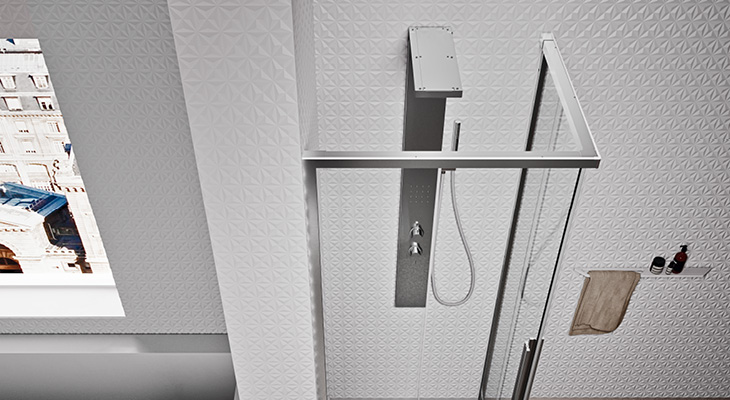 Conclusions
Whatever the style of the bathroom to be furnished, there are many possibilities to do it with style. From modern shower enclosures to modern industrial design ones, the choices are almost endless. A perfect balance between design and choice of materials can radically change the look of the bathroom.
Among the latest furniture trends, the beauty of street art makes its way into homes, with a continuum between exteriors and interiors that blends in perfect harmony. With Street Art serigraphs (designed by G. Diana), street art becomes the protagonist. Below: Segmenti, Sneakers and Tire.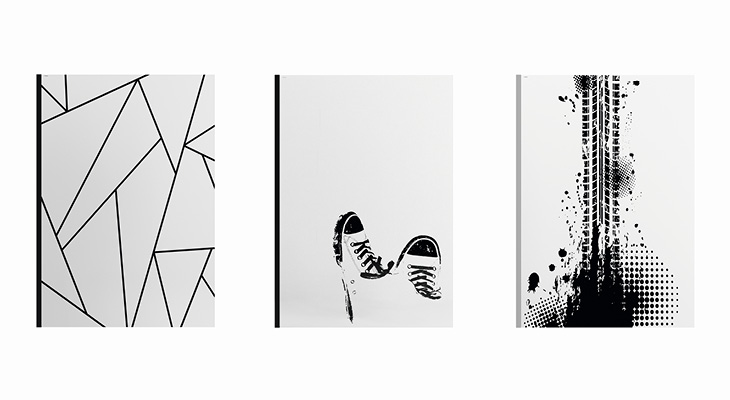 What is inclusive design? It's that particular type of design, specifically designed to be accessible to everyone. The characteristic of an inclusive shower enclosure is that it can be used by anyone. Among the technical precautions there can be safety glass and floor-level shower trays, so as to eliminate unevenness.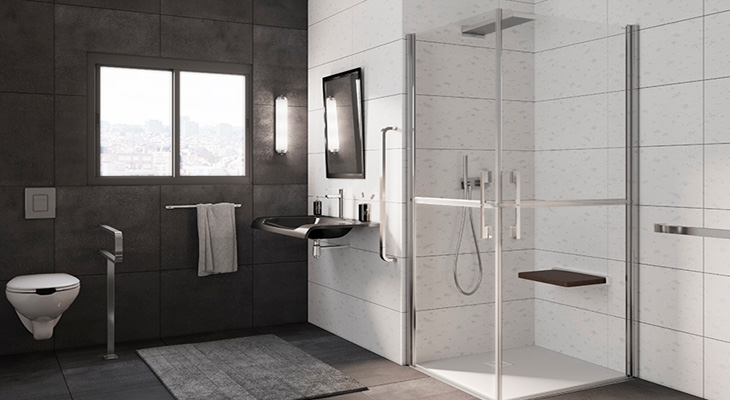 Looking for inspiration?
Check out the latest articles: