The shower enclosure easy to clean and sanitize in a short time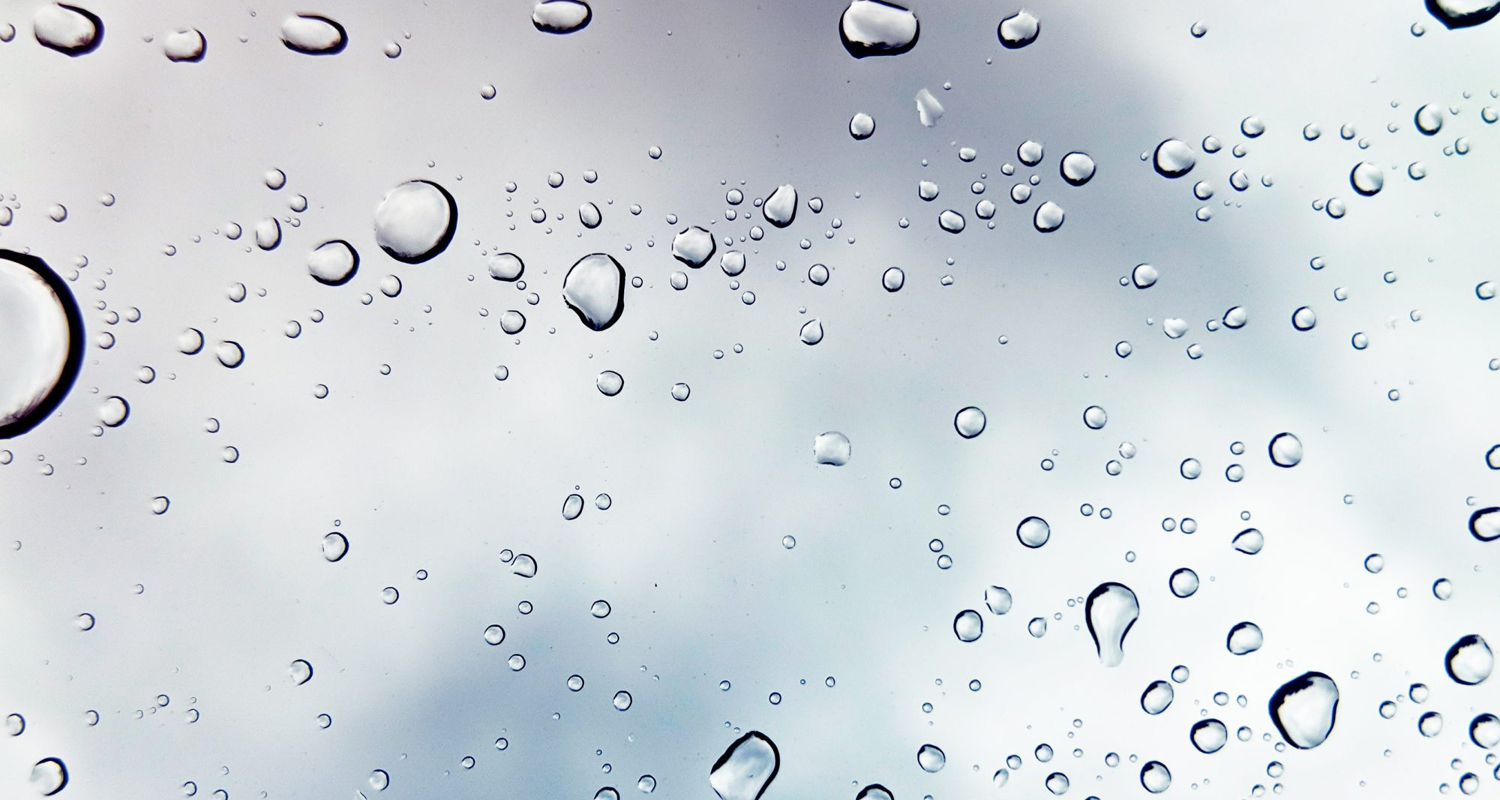 The shower enclosure  is the most difficult part of the bathroom to clean and sanitize. The cause? Cleaning the shower enclosure takes time. The shower cubicle must be cleaned, dried, treated in detail and treated with the correct products. During the purchase phase, it is good to observe shower enclosure models that allow simple, fast cleaning and above all that require little effort, regardless of the position: both in a small bathroom and in a larger bathroom. Relax in this article will guide you to the models of shower enclosures that are more easy to clean according to the different types.
Walk-in
It is the easiest shower enclosure to clean, as there are no sliding systems, gaskets, openings, handles, bearings and hinges. The walk-in is a large glass inserted in a thin profile fixed to the floor and wall. In this type of box, the only critical point is the junction between profile and coatings, especially if there are visible residues of silicone, which must be eliminated. Bobox and Wall are the two Relax products that fall into the category.
Bobox
With a bold style and design, Bobox has the ends rounded by a double radius. This peculiarity makes it one of a kind .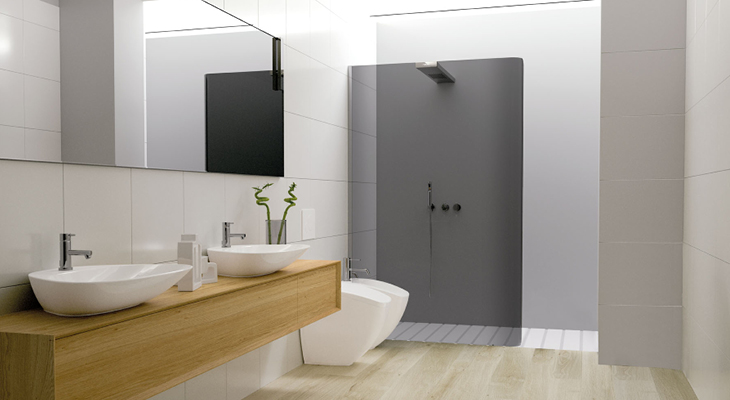 The advantages that make this walk-in innovative and easy to clean are:
without corners and joints that retain dirt.
without visible fixing screws
absence of cavities or details where it is difficult to pass with a sponge
standard descaling treatment (see advantages in the dedicated chapter below)
the small radius curved inwards makes Bobox functional and practical, as it facilitates the retention of water during use
Wall
Wall is part of a walk-in typology with straight glass. One of the most appreciated features of Wall is that the profile used to fix the glass does not require the use of screws . It is sufficient to insert the glass only with pressure. This results in important cleaning advantages: no silicone is required and the absence of screws makes it easier and safer to pass the sponge.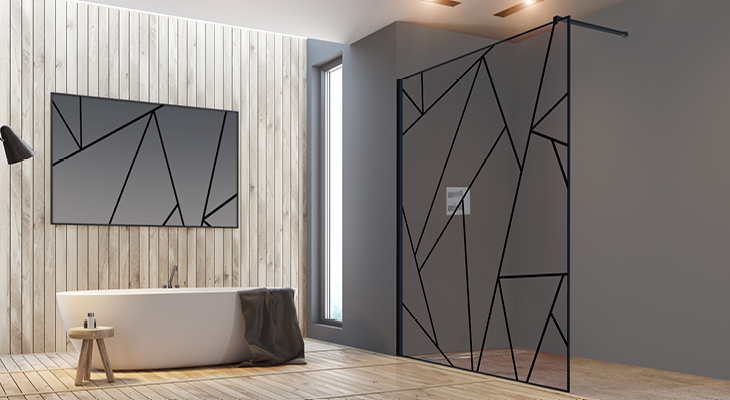 The various customizations of Wall (as in the photo) have no cleaning and durability problems thanks to its special ecological paints.
Shower enclosure with sliding doors
This type of shower enclosure has upper and lower rails that must be cleaned regularly. Cleaning with this solution may therefore require more attention. Among the shower enclosures with sliding doors, PURO has interesting features that lend themselves to quick and effective cleaning. PURO is easy to clean because:
It has no crystal overlays. When the sliding door is closed, it does not overlap the fixed part of the cabin. This avoids that there are places that cannot be reached with the sponge.
Equipped with quick release of the door that allows a practical, deep and complete cleaning
It has a casing covering the sliding mechanisms which prevents the deposit of dirt and dust.
No visible fixing screws.
Equipped with small profiles
Available, on request, with anti-limescale treatment on the crystal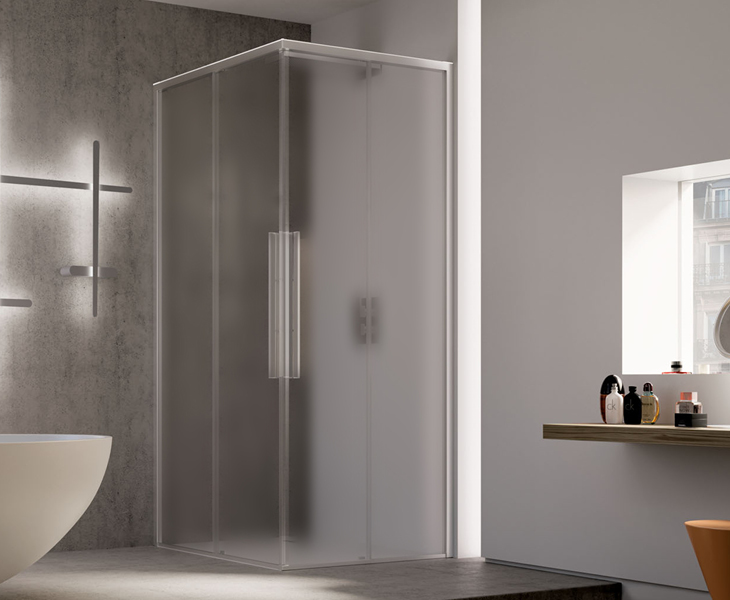 Shower enclosure with hinged door
The hinged door shower enclosures open outwards but can also open inwards: this makes them extremely versatile. Relax in the catalog presents two items that among their strengths are simple and easy to clean: Kubik and Cover. KUBIK is characterized by an extremely minimal line and is available with 6mm or 8mm glass. The elements that characterize it are:
The fixed wall has no support bars
It is a model almost entirely made of glass and without profiles
It has no visible fixing screws
The descaling treatment is already included as standard (see dedicated chapter below)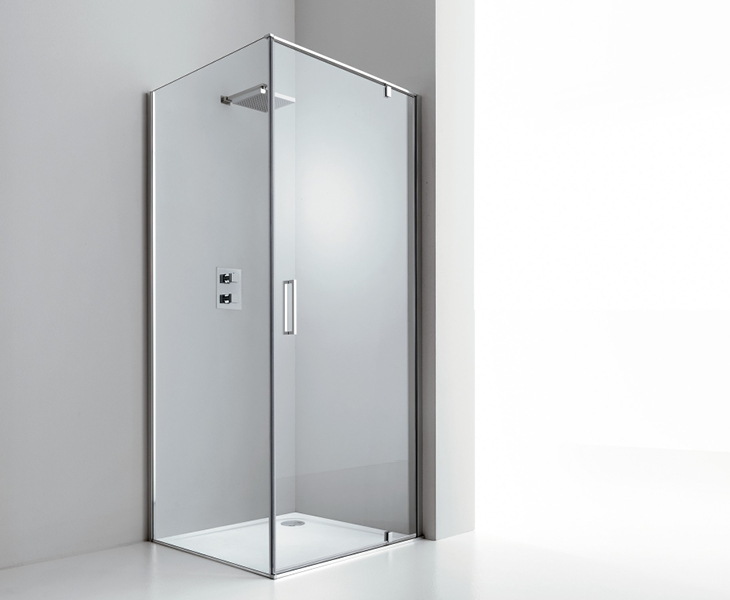 Cover lends itself to quick and effective maintenance because:
It has a hinge flush with the glass for a better sliding of the sponge
Descaling treatment included (see dedicated chapter below)
It has no visible fixing screws
Can be fixed directly to the wall without a profile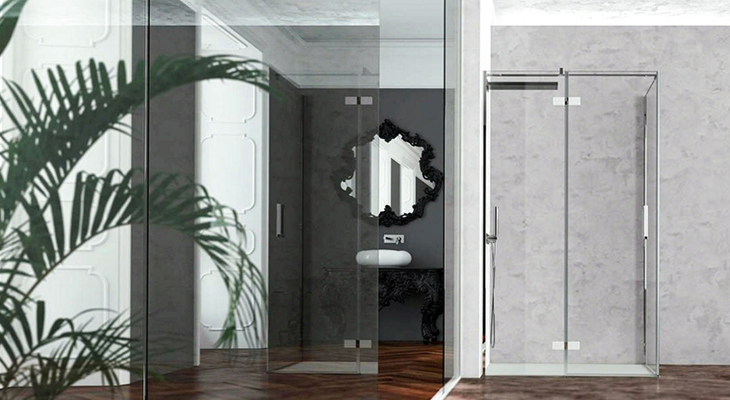 Shower enclosure with folding opening
Some shower enclosures with folding opening in the niche are uncomfortable when cleaning, as they need to enter the niche to clean. To overcome this problem, Relax has equipped its shower cabin with a safety system for the door. The door release solution is designed for personal safety but is equally effective for cleaning because it can be fully opened outwards, thus facilitating quick and easy cleaning. The Relax safety system is available in the Light PS model with 6mm tempered safety glass.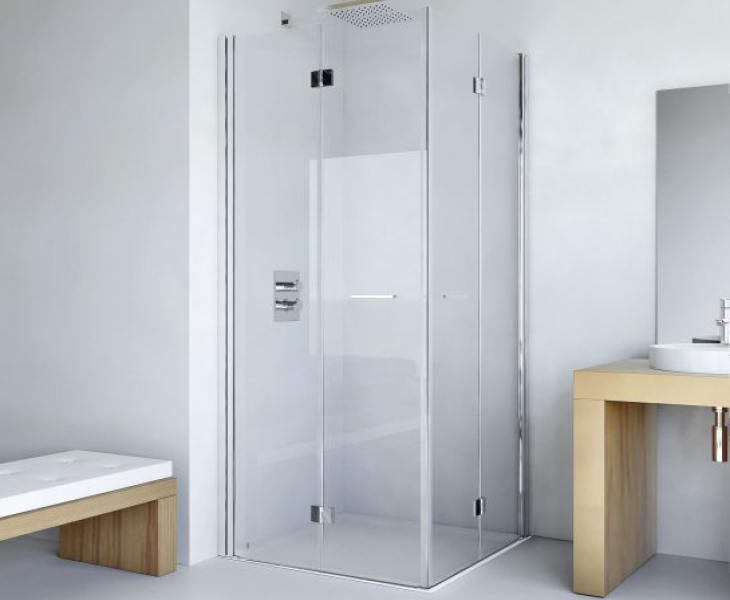 Saloon shower enclosure
It is a shower cabin with a double door that opens outwards and closes inwards like saloon doors. Once outside, the doors lend themselves to immediate cleaning. The Light B2 model of Relax, with 6mm glass, has these characteristics and is available for both the niche and the corner of the bathroom.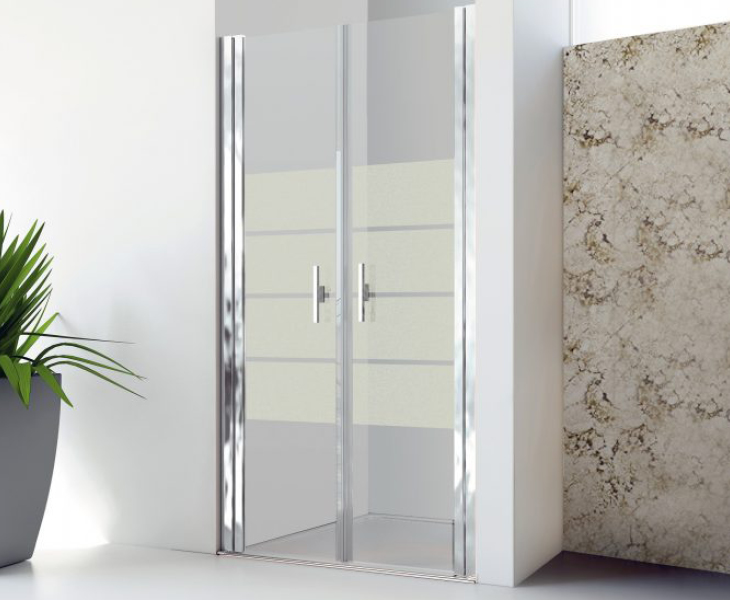 The descaling treatment
Limestone has always nestled in the most remote corners of our bathroom. What is limestone and why does it form? The bathroom, a usually humid environment, has surfaces that remain wet most of the time. This can occur both due to a condensation phenomenon and due to the water that does not slip on the crystal. Once the water has evaporated, it leaves the salts it contains (calcium carbonate and magnesium) on the surfaces. The more time passes, the more difficult the limescale stains become to clean. How to solve the problem? To avoid this problem, you can choose a shower enclosure with Crystal Protect by Relax anti-limescale treatment. This product exploits the result of research in the field of nanotechnology. Crystal Protect forms an invisible protective film on the glass, making it smoother and more slippery. This avoids the absorption of water, soap and other residues, making cleaning easier. The glass with the descaling treatment must be cleaned with particular attention: without using aggressive detergents, which can limit its effectiveness. With Crystal Protect a little warm water and neutral soap are enough to make your boxes shine. The descaling treatment has an effectiveness ranging from 2 to 5 years depending on the correct cleaning of the glass. To extend its duration, Relax offers a Maintenance Kit that regenerates protection. The advantages of Crystal Protect by Relax are:
extra protezione contro i depositi di calcare e sodio
effetto antibatterico duraturo nel tempo
maggiore resistenza alle graffiature, corrosione e invecchiamento
è privo di silicone e quindi non ingiallisce nel tempo
non è tossico
può essere rinnovato
How to clean the shower enclosure
Cleaning the shower cabin may seem like an unpleasant job, but by following the Relax tips you can quickly clean your cabin. Glasses The ideal solution sees them dry and washed at the end of each shower. Glass with anti-limescale treatment should not be cleaned with aggressive detergents. On the other hand, untreated glass can be cleaned with chemical detergents or with very effective and cheap natural do-it-yourself detergents that will save you even the most stubborn dirt. Profiles In aluminum, they must be cleaned with neutral detergents using non-abrasive sponges that scratch the surface. If the profiles are colored, use only neutral soap. Seals Made of plastic material, soap and water are sufficient to keep them soft. Shower tray Your feet should be placed on a clean surface. Depending on the material with which the shower tray is built, use the specific detergent.
Natural products for cleaning the shower box
If the shower enclosure is not properly maintained, it can become encrusted with limescale, detergents and in some cases, mold. Keeping the shower clean and sanitized is not always easy. For cleaning, specific products of chemical derivation can be used or natural solutions can be used. Among the do-it-yourself detergents, Relax suggests these solutions:
ELIMINATE LIMESTONE

Emulsion of white vinegar, bicarbonate, lemon
Use a sponge and leave to act for a few minutes and then rinse thoroughly

ELIMINATE SOAP DEPOSITS

Solution composed of denatured alcohol, white vinegar and water.

CLEAN THE WINDOWS

Put a solution of 2 parts of white vinegar and 1 part of water into a spray bottle
Spray the liquid obtained on the glass and wipe with a sponge. Then rinse and wipe with the glass wiper

CLEAN THE SHOWER HEAD

Limestone often clogs the holes and the water struggles to escape. Then immerse the shower head in hot water and white vinegar for 1 hour and then rinse. If there are still closed holes, help yourself with a needle to open them
CONCLUSIONS
When choosing your shower box, make sure you can access each of the parts that make up the box.
The life of the shower enclosure, with proper maintenance, can be many years. Finally, if you want your shower enclosure to always remain beautiful and shiny, it is best to dry it after each shower. Help yourself with a glass wiper or a microfibre cloth, in doing so you will avoid long and tedious cleaning and maintenance interventions. R & amp; D Relax design. Made in Italy. Quality certified by Tuv Sud .