Reserved area: discover its features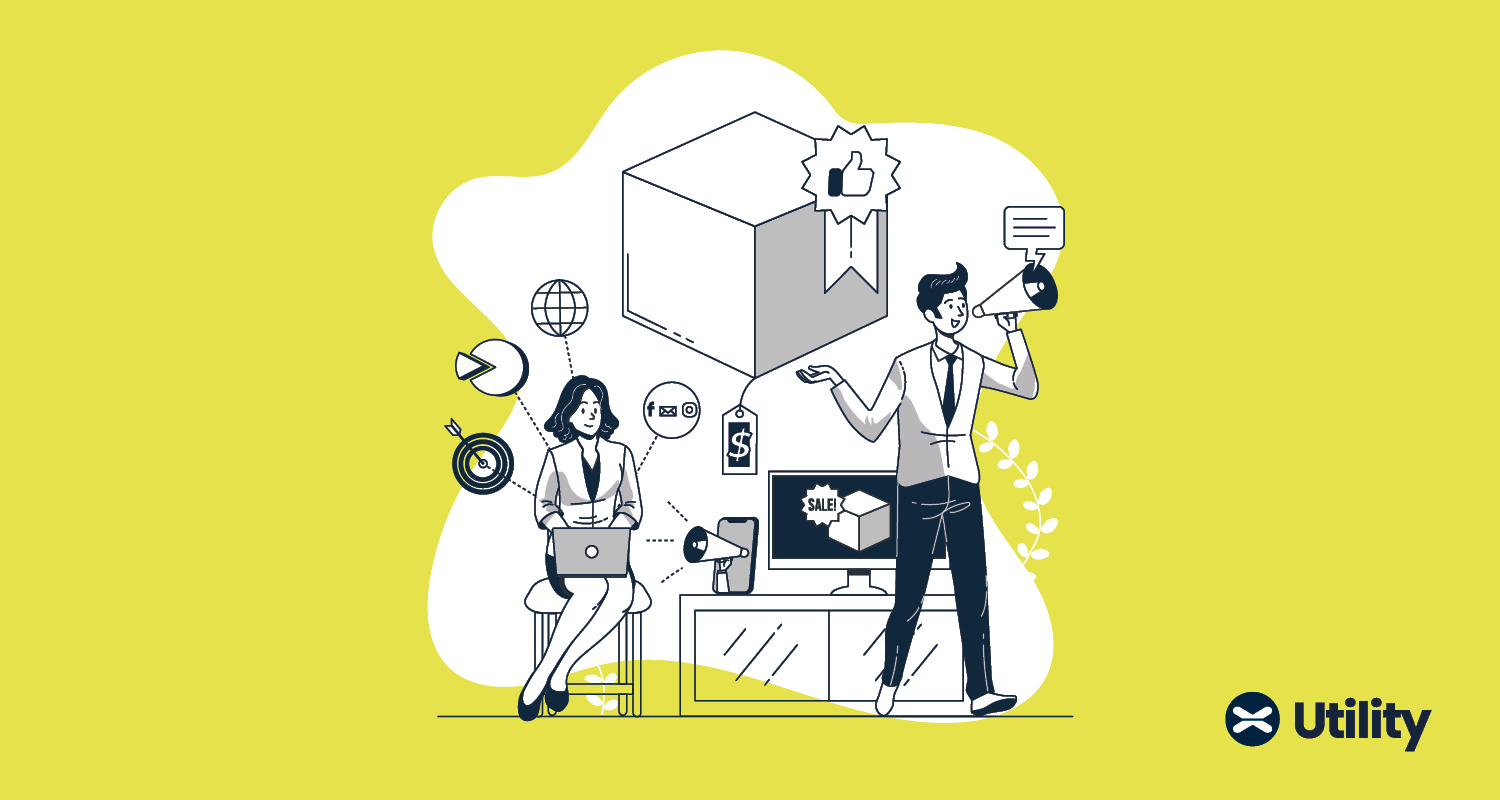 We have set up two reserved areas on our site, one for resellers and one for architects. Each of the two contains training material and advice for the use of all Relax products. Find out more 👇🏼
Restricted area: 3D, assembly instructions and technical datasheets
At your disposal, always updated, assembly instructions, technical data sheets and 3D files. In the download section in the reserved area. Both in Architetti Area and in Retailers Area it is possible to find in PDF format, downloadable on your device, all the instructions for assembling the Relax shower enclosures with relative technical data sheets. Each Relax product is also accompanied by a 3D file that allows a 360° view of the chosen product.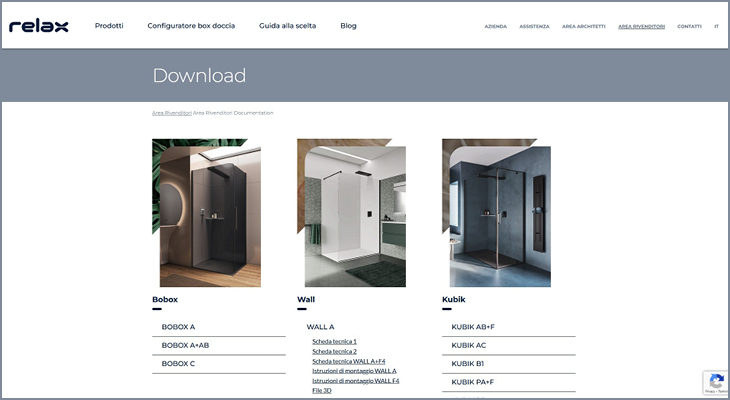 Basic utility
What makes up a Relax product? Find out in our "Basic Utilities" section. Always updated patents and certifications, with new releases and older products. An overview of all the finishes available in the catalog and an in-depth look at the materials and components that distinguish a Relax product.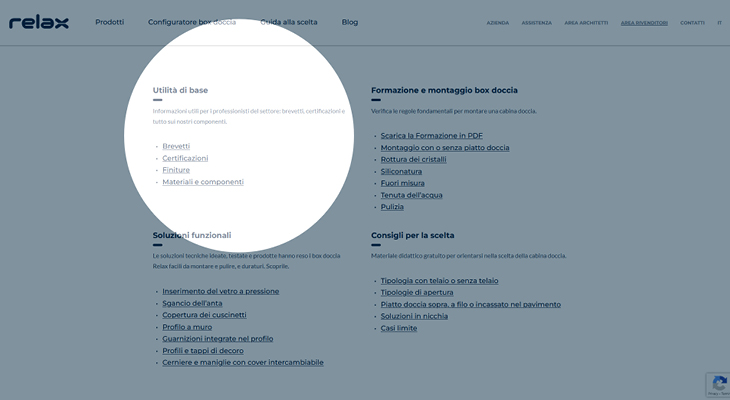 Formation and assembly
This section allows a quick consultation of what the Relax world is, with training on all our products, always updated, downloadable in PDF and the very practical prescriptions for the assembly and maintenance of shower enclosures. Useful information on silicone coating, crystal breaking and cleaning can be found here.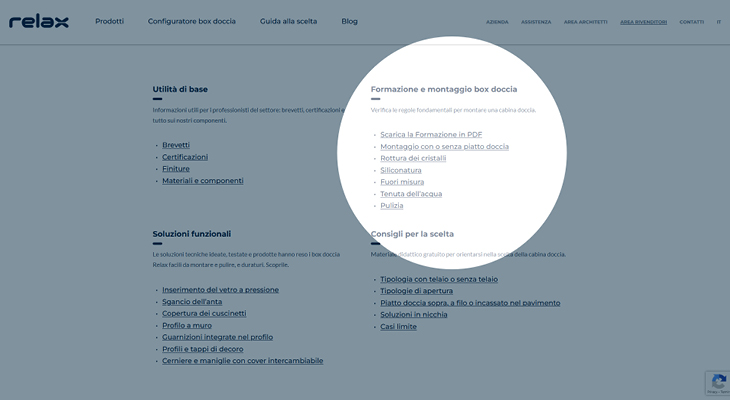 Functional solutions
Relax shower enclosures are recognized not only for their design and excellence in the materials used, but also for all the technical solutions that have been implemented over time to meet customer needs. We are talking about a series of details that guarantee reliability over time, ease of cleaning and superior mechanical performance of our components. In the "Functional solutions" section in the reserved area you will find a series of articles written specifically for you who want to better understand how Relax shower enclosures work and show their qualities to your customers.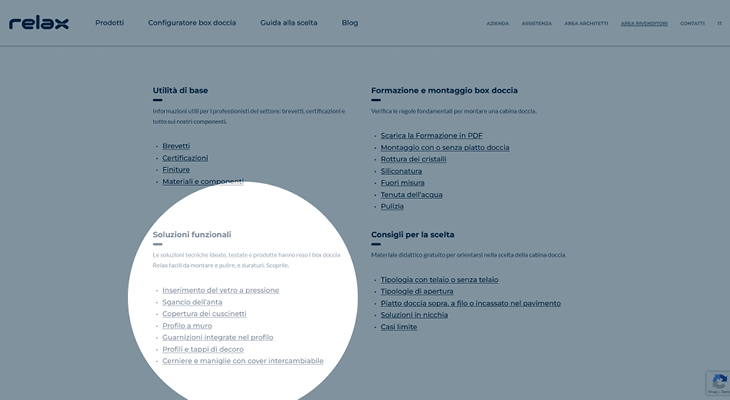 Advice for choosing
Framed or frameless shower enclosure? Folding or pivoting door? We are here to help you as completely as possible in choosing the shower enclosure (always TÜV SÜD certified) whether for your shop or for one of your customers. Discover the articles that we have made available to you in the reserved area in: "Advice for choosing": all the essentials for a precise choice consistent with your needs.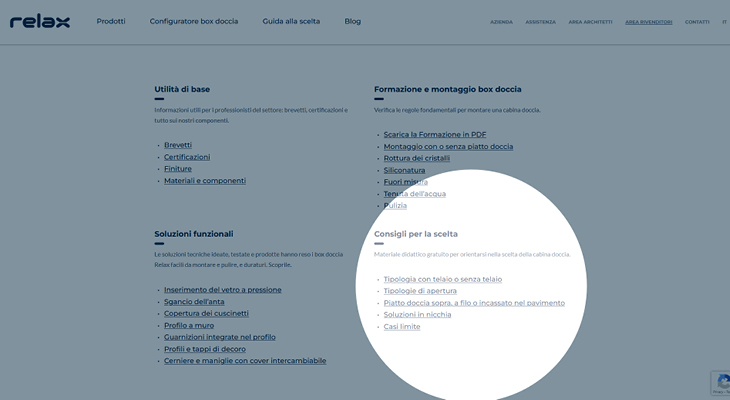 Restricted area: how to access?
It is very simple to access the reserved area, follow the instructions:
Architects Area: accessible from here. Simply register by entering essential information such as email address, password and type of studies.
Resellers Area: accessible from here. If you are already one of our dealers, just follow the instructions to formulate a new password, by entering only the email address to which our order confirmations arrive on the login screen. If on the other hand you are not yet one of our dealers, contact us at info@relaxsrl.com to find out how to enter the Relax world.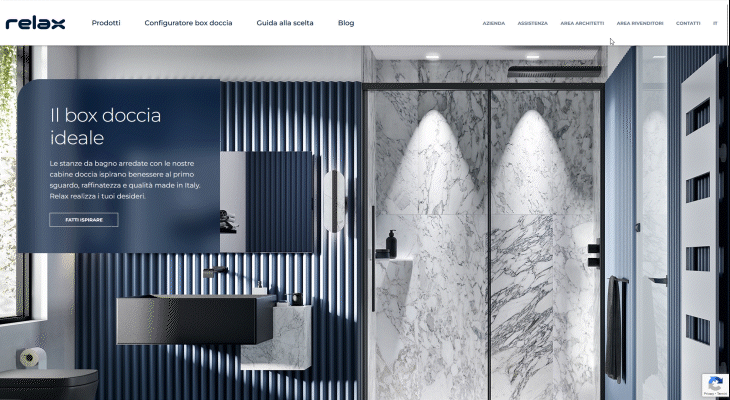 Find the reserved area directly on our website.
Looking for inspiration?
Check out the latest articles: